Galexxy Holdings Inc. (OTCMKTS:GXXY) Stock Falls: Signs Strategic Alliance and Purchase Option to Acquire eVendco Inc.
Galexxy Holdings Inc. (OTCMKTS:GXXY) announced on August 24, 2022, that its recently acquired subsidiary, Wellbeing Farms LLC., has signed a Strategic Alliance Agreement with eVendco Inc., for the supply, installation, and service of smart vending kiosks. The purpose is to conveniently and quickly deliver its CBD and Functional Mushroom health supplement products. Wellbeing Farms has come up with a marketing plan to install more than 1,000 smart vending kiosks in strategic locations over the next 2 years.
Market Stats
On Wednesday, GXXY stock fell 5.03% to $0.2986 with 198K shares, compared to its average volume of 201K shares. The stock moved within a range of $0.2690 – 0.3150 after opening trading at $0.3150.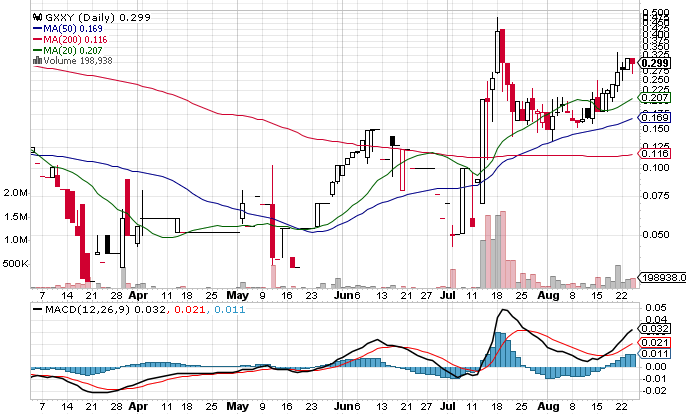 Galexxy Holdings Announces its Strategic Alliance and Purchase Option to Acquire eVendco Inc.
Galexxy has the option to acquire 100% of eVendco Inc. 20 million of Galexxy's restricted shares were issued, for its 3-year eVendco purchase option, which would be credited against the purchase price when exercised. eVendco is a California based importer and distributor of smart vending systems that has an exclusive distribution agreement for North America with TCN Vending Machine Co., Ltd of China, and a non-exclusive worldwide arrangement for eVendco's customized models.
Galexxy Holdings Completes its Acquisition of ABC Wholesale
On August 17, 2022, Galexxy Holdings Inc. announced completing the acquisition of the majority controlling interest in ABC Wholesale Products, LLC. The latter is based in Gainesville, Georgia, and markets a distinctive range of high-quality CBD consumer products under its trademarked AVALOO brand. ABC is profitable with revenues expected to exceed $1.5 million in 2022 and is projecting revenues of $3 million for 2023. Galexxy will advance the release of the AVALOO retail website for consumer direct sales combined with a social media campaign.
Key Quote
Iain Saul, Galexxy's new CEO stated that; "This is a very positive acquisition that is generating profits which will underpin Galexxy's growth. My focus is to continue the strategic development of Galexxy Holdings, both through organic growth and additional acquisitions to achieve share price growth and the uplift of GXXY to OTC-QX status, as a forerunner to a further planned up listing".
Traders Corner
GXXY stock is trading above the 20-Day and 200-Day Moving averages of $0.22 and $0.17 respectively. Moreover, the stock is trading below the 200-Day moving average of $0.12.