Sibannac Inc. (OTCMKTS:SNNC) Partners with Digital Distro, Inc./Universal Systems Inc. to Venture into Metaverse and NFT Marketplace
Nevada corporation Sibannac Inc. (OTCMKTS:SNNC) is situated in Scottsdale, Arizona, and was founded in 1999. It is involved in creating and selling premium next generation wellness products in the consumer packaging goods space, including Cannabidiol (CBD), Kratom and Hemp-derived Delta-8 THC. It also operates an FDA registered, food-grade facility that is fully cGMP compliant.
Market Stats
On Wednesday, SNNC stock fell 0.50% to $0.0300 with 54K shares, compared to its average volume of 127K shares. The stock moved within a range of $0.0300 – 0.0330 after opening trading at $0.0330.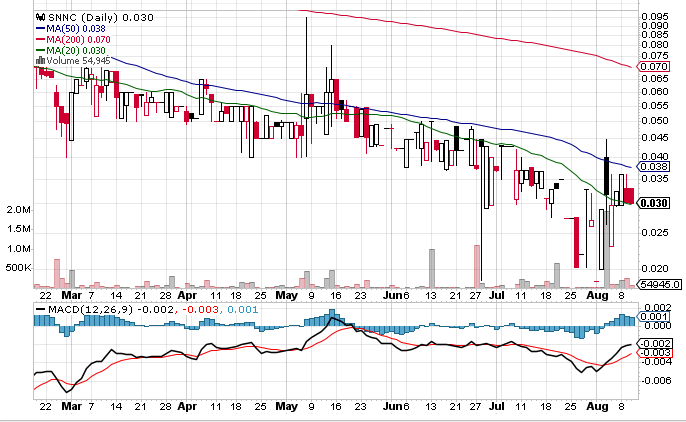 Sibannac, Inc. Selects Digital Distro, Inc./Universal Systems, Inc. for Next Generation Metaverse and NFT Marketplace
Sibannac, Inc., on August 10, 2022, has announced the selection of Digital Distro, Inc./ Universal Systems, Inc. to provide consulting and technology platforms for new revenue streams and distribution channels through Web3, Metaverses and NFT solutions.
David Mersky, CEO, is thrilled about the development. He says the technology offering from Digital Distro brings the most advanced utility strategies within an NFT to create unique Digital Media Experiences (DMEs) specifically designed for Metaverse sales and product distribution.
He states that expert consulting from Digital Distro and their deep understanding of Web3, NFT utility and marketplace strategies, will take the Sibannac brand and product experience to a whole new level altogether. Notable brands are now looking to launch their own Metaverse strategies, so Sibannac will do the same, while tweaking the product offerings to be at this new intersection of retail and commerce.
Mr. Mersky further elaborates that after experiencing the first-hand the level of expertise and commitment to supporting Sibannac into Web3, they are confident about choosing the right partner to work towards their goal of increased revenues. Digital Distro will provide the consulting and technical expertise for Metaverse strategy/integration, NFT development, Web3 integration, NFT drops, rewarding, sharing and growing the Sibannac community.
Sibannac, Inc. and SPUR Biotech, LLC Ink Letter of Intent to Acquire the Plant Based Vaccine Manufacturer
On August 3, 2022, Sibannac, Inc. announced the entry into a Letter of Intent with SPUR Biotech, LLC to acquire the Ohio-based developer of plant-based vaccines. The latter is already an existing marketing client of Sibannac's Campus, its technology incubator. The creation of the Campus was for attracting clients in order to offer mentoring and manufacturing services, while choosing a select group to pursue merger or acquisition opportunities.
SPUR aims to sustainably grow leafy greens and biopharmaceuticals. The vaccine under development is derived from lettuce, which is ideal for bio-reactive products. The companies previously executed an agreement wherein Sibananc, through the Campus platform, would create the market positioning for the plant-based vaccines, currently in development.
Final patents were filed by SPUR in June. It has provided projections regarding vaccine production – millions of vaccine doses can be manufactured from lettuce grown on only two acres, demonstrating the extreme efficiency and scalability of the vaccine. David Mersky is excited about the deal with SPUR, especially as they have relevant tech that could tremendously boost the value of Sibannac's health and wellness platform. A marketable and approved anti-viral vaccine will position the company favorably.
Traders Corner
SNNC stock is trading below the 20-Day and 50-Day Moving averages of $0.0313 and $0.0376 respectively. Moreover, the stock is trading below the 200-Day moving average of $0.0701.