One World Universe Inc. (OTCMKTS:OWUV) Talks about how Friends with Business helps Business Professionals
California-based corporation, One World Universe Inc. (OTCMKTS:OWUV) is a publicly traded company that invests in sports related businesses, distressed assets, and business opportunities within emerging industries such as the Metaverse. It is also involved in implementing global humanitarian efforts through the profits generated from the sales of products and services, in over 185 countries. It has contributed valuable resources to better the lives of people in the harshest of environments. Access to medicines, vaccines, and other basic necessities has been provided.
Market Stats
On Thursday, OWUV stock fell 9.75% to $0.0750 with 1.85 million shares, compared to its average volume of 1.83 million shares. The stock moved within a range of $0.0680 – 0.0915 after opening trading at $0.0900.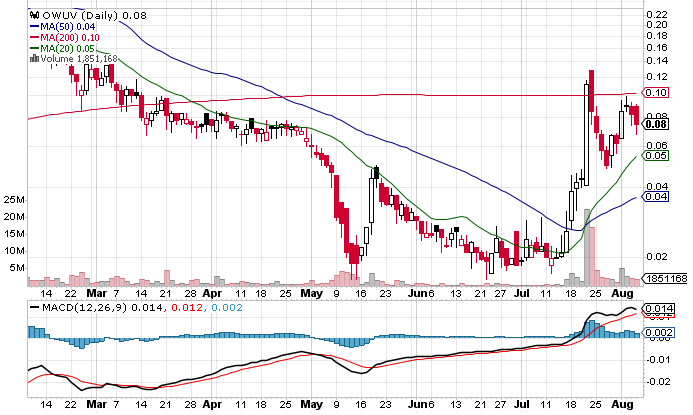 One World Universe Inc. in Announces That Friends with Business is Offering Business Professionals a Portal to Offer Their Services to Start-up Businesses
One World Universe Inc. has announced on August 04, 2022 that Friends with Business (FWB) is offering professionals a place to advertise their services to start-up businesses. Rather than help new business owners set up their business, FWB offers a directory of featured business professionals that can be an asset to new business owners. One World Universe looks to expand these services into Canada with the opening of the Canadian office.
Caren D. Currier, CEO of One World Universe, says that while advertising is a small part of any business budget, FWB is offering free advertising for business professionals until January 2023. They are providing a pocket-friendly way so small business owners can connect their services with new business owners.
This is indeed a fantastic opportunity for accounting and legal firms, as well as businesses that provide services for web design, business cards, signage and whatever a new entity might need to have their businesses accessible to new businesses. These services will not just be available to new companies, but be an avenue for existing businesses to search for such services.
One World Universe Inc. in Negotiations to Acquire a Majority Share in a Digital Bank
On August 03, 2022, One World Universe shared that it is currently in negotiations to acquire controlling shares in a digital bank. The Internet and Metaverse has virtually made the world a lot smaller, which puts the company in a favorable position to start negotiations to acquire a controlling position in a digital bank that accepts deposits.
Caren D. Currier has stated that being able to connect Ameritrust with a digital bank that is available worldwide, will equip the company with the capacity to expand their lending lines. With increased lending lines, they will have the ability to protect veterans and other individuals from being homeless.
A shockingly vast percentage of the homeless are veterans, and the company strives to help those in the United States and around the world to be removed from living on the streets. These negotiations will help to expand the company's operations, along with its humanitarian efforts. Once these partnerships are formed and finalized, all relevant information will be provided to shareholders.
Traders Corner
OWUV stock is trading above the 20-Day and 50-Day Moving averages of $0.0597 and $0.0364 respectively. However, the stock is trading below the 200-Day moving average of $0.1020.