Pacific Green Technologies Inc. (OTCMKTS:PGTK) Successfully Transitions to Renewable Energy Recurring Income Model
Pacific Green Technologies Inc. (OTCMKTS:PGTK) offers Battery Energy Storage Systems and Concentrated Solar Power energy solutions, to support its marine environmental technologies division. It is also focused on devising solutions to meet the requirements for cleaner and more sustainable energy around the world.
Market Stats
On Wednesday, PGTK stock moved up 3.93% to $0.9195 with more than 4.4K shares, compared to its average volume of 5.9K shares. The stock moved within a range of $0.8800 – 0.9195 after opening trading at $0.9195.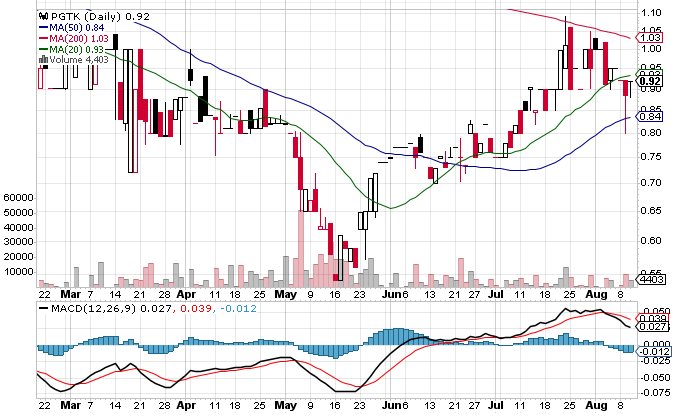 Pacific Green Successfully Executes Its Transition to Renewable Energy Recurring Income Model and Announces Its Annual Report for Year Ending March 31, 2022
Pacific Green Technologies, Inc. has successfully completed its first milestone in diversifying and regularizing its income streams, as announced on August 10, 2022. It is currently in the process of transitioning from a single technology equipment provider in the marine sector to an asset-driven "build-own-operate" renewable energy and battery energy storage system (BESS) development company.
This move comes after the financial close of its first 99.98 MW project at Richborough Energy Park, as part of Pacific Green's 1.1 GW pipeline of BESS developments in the UK. It is looking to expand the platform geographically too. On June 21, 2022, Pacific Green Technologies had released a statement about reaching its financial close for £28.25 million of senior debt for the project at Richborough Energy Park.
The project was supported by the company's 50% project equity partner, Green Power Reserves Limited, senior debt provided by Close Leasing Limited and energy optimization by Shell Energy Europe Limited. Richborough Energy Park Limited is currently in construction, with projected commercial operations commencing in June 2023.
Due to tighter fuel spreads and COVID-19 pandemic logistical issues for the company's clients and suppliers in the marine sector, revenues have been minimized for the year ending March 31, 2022 to $15.44 million (compared to the revenue in 2021 being $52.62 million), as part of this transition. A net loss has been reported for 2022, totaling US$10.75 million.
Among the mentioned losses, a one-off, non-cash write-down of combined goodwill and intangible assets is included, totaling US$7.06 million against Chinese subsidiary Pacific Green Technologies (Shanghai) Co. Ltd. (formally Shanghai Engin Digital Technology Co. Ltd.) and Pacific Green Innoergy Technologies Ltd., acquired in 2019 and 2020, respectively.
In the last six months, the spread between high-sulfur and low-sulfur fuel oils has rebounded to exceed US$200 per ton. The company has seen a substantial increase in new enquiries for its emissions control systems, also referred to as scrubbers, which has led to further sales of the company's technology in the past months.
Scott Poulter, Pacific Green's Chief Executive, has stated that reaching financial close is certainly a commendable benchmark for their transition into a world's leading company that develops vertical energy. This development has proven itself through the rigorous due diligence process and requirements of project finance, which has in turn, provided a template for the company to scale swiftly.
Traders Corner
PGTK stock is trading above the 20-Day and 50-Day Moving averages of $0.92 and $0.82. However, the stock is trading below the 200-Day moving average of $1.03.